Description: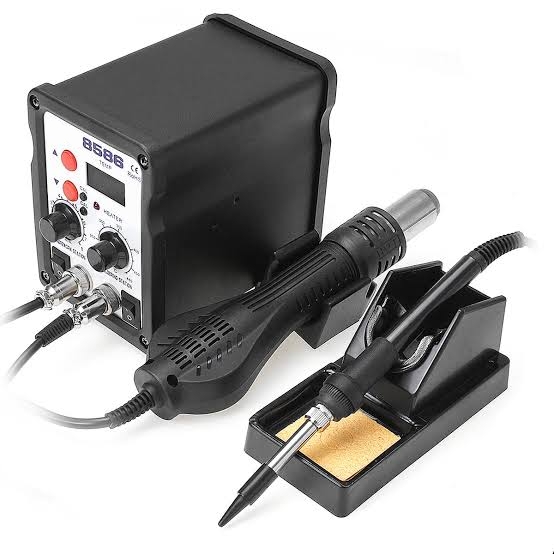 Overview:
The 8586 solder rework station is a combined hot air blower and soldering iron.  Featuring independent controls with detachable tooling makes this compact unit easy to use.  It has a small footprint, so takes up little bench space, and frees up a plug socket saved by not having two separate tools.  The soldering iron stand comes with a tip cleaning pad, and the hot air gun clips neatly on to the base unit when not in use.
 With a wide range of operating temperatures, the digitally stabilised heat is shown on the clear display.  The three interchangeable nozzles allow you to concentrate the airflow where desired, and provides a good amount of shielding for nearby delicate components.
The hot air blower tip can be used for heatshrinking.
Specifications:
Dimensions (base unit): 10cm (w) X 15cm (l) X 15cm (h)
Input voltage: 220V AC ± 10% 50Hz
LED Display for temperature and alarm.
Air output power: 700W
Air flow: 120 lpm (max)
Air temp range: 100℃~500℃
Air temp stability: ±5℃
Soldering working voltage: 26V AC 50Hz
Soldering output power: 50W
Soldering temp range: 200℃-480℃
Soldering temp stability: ±2℃ (static)
Soldering ground impedance: <2Ω
Soldering ground voltage: <3mV
Package contains:
8586 2 in 1 base unit
Hot air tool
Mount for hot air tool
3 different sized nozzles for hot air tool
Soldering iron
Stand for soldering iron
Applications:
Typical applications would be for mounting components to a circuit board that uses SMDs, or to remount or remove components with lots of connections.  
Multiple terminal assembly where there is lots of soldering and heat shrinking involved.
Plastic welding.
And any other uses that soldering irons and hot air guns are used for, like softening plastics and glue, stripping, pre-heating, tinning, drying and thermistor testing.
Can I use it to solder SMD components?
Yes.  It is ideally suited for it.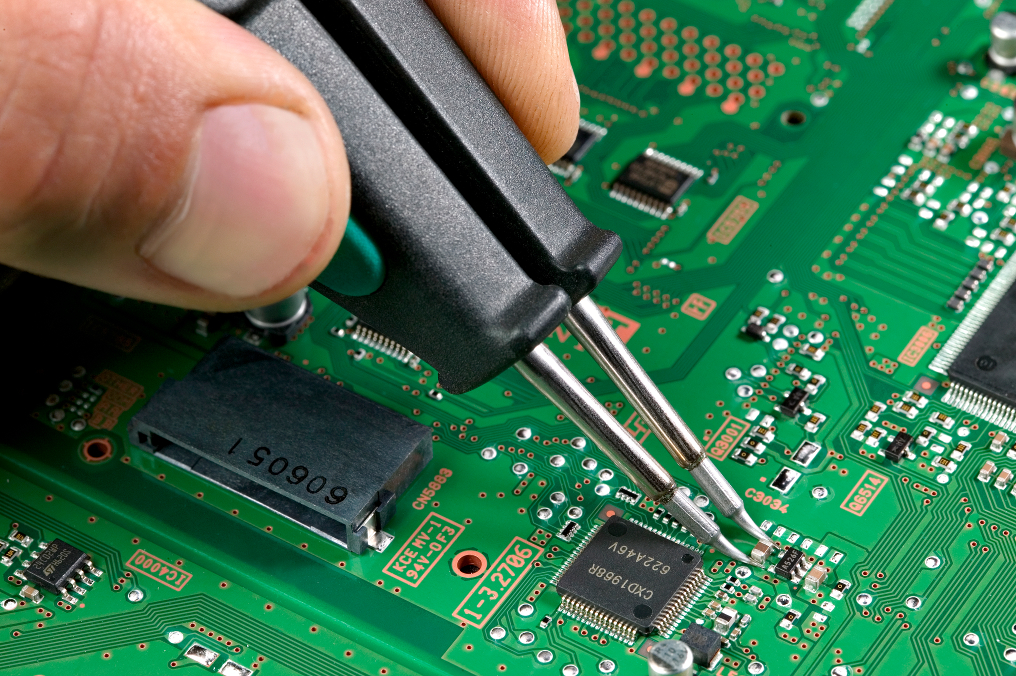 Can it be used for heatshrinking?
Yes, the hot air gun is perfect for heatshrink sleeving and other similar materials.
Can it be used to remove components from a circuitboard?
Yes, when used with any standard desoldering pump or wick thrework station enables you to remove, move or accurately position soldered items, including surface mount.

What if I only want to use the hot air gun/soldering iron?
The independent controls allow for using the hot air gun or soldering iron either on their own, or together.
Do I have to keep swapping between temperatures for each?
No, each tool can run at a different temperature.
So it strips paint?
Yes, but it is best used for small areas due to its size.
What if I need to change the temperature of just the soldering iron?
That is easy to achieve.  The controls are such that they can be operated by either hand.
NOTE: There is a lead time of 10 working days for delivery
Image: