Description:
Overview
Do you have a lot of hardware tools and other items that you want to clean regularly and effortlessly with the press of a button? Then we have an exciting product for you - a portable ultrasonic cleaner. Whether you are a DIY hobbyist, jeweller, lab administrator, or repairman, this compact cleaner is a great investment to save time and effort. It can easily remove dirt and stains from surfaces and nooks and crannies of various items that would be difficult to do manually.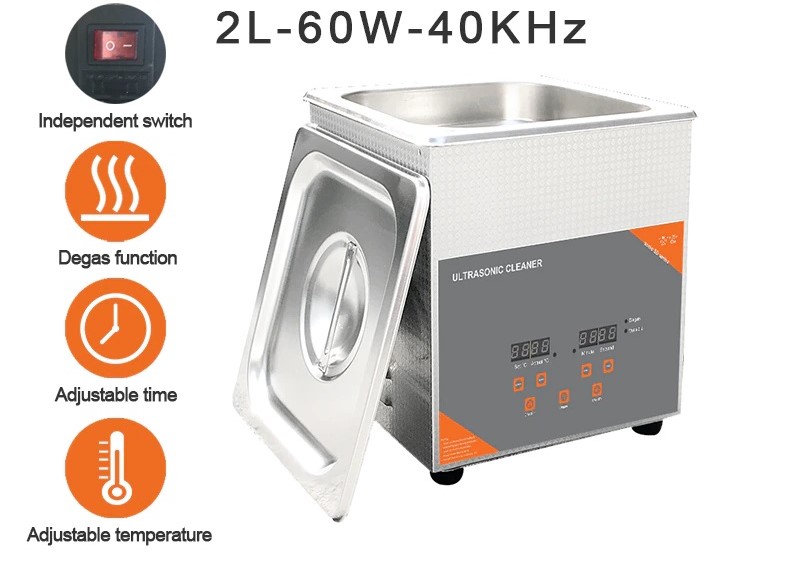 This portable device is an inexpensive and effective way to clean everything from watches to glasses, razors, jewellery, and more. Regular cleaning of these items will slow down their wear and tear, sustain performance, and improve longevity. Most items made of aluminium, glass, ceramic, or plastic can be cleaned in this versatile ultrasonic cleaner.
All this cleaning is made possible by an ultrasound-generating transducer placed in the tank. When turned on, it transmits high-frequency sound waves through the liquid, which scrub off dirt and other contaminants from the surface of the immersed parts. The operating principle may sound simple, but the cleaning is quite effective. The inclusion of a heater in the device further enhances the cleaning process while also sterilizing the immersed items to an extent.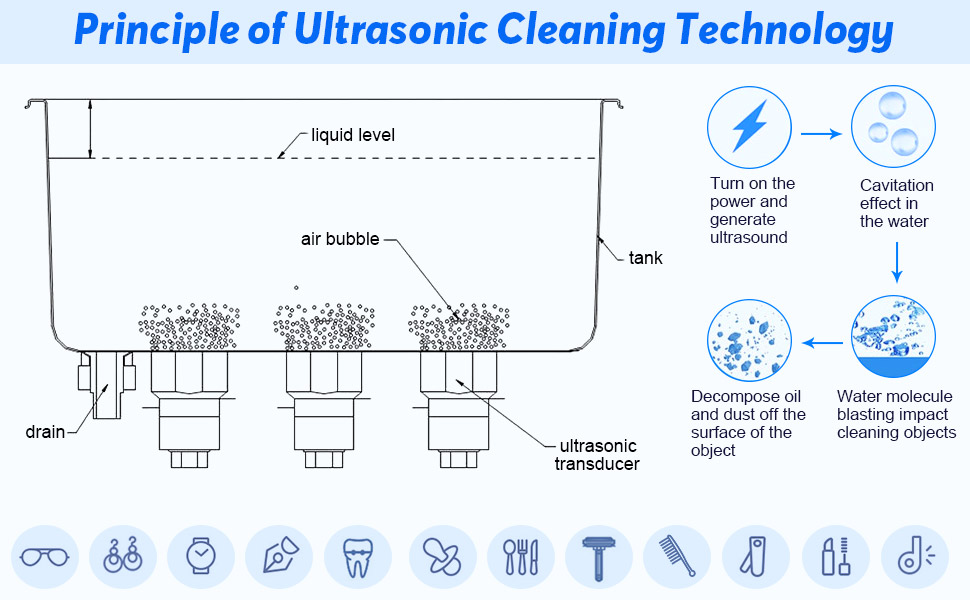 The body of this machine, top cover, tank, and the cleaning basket are made of 304 stainless steel for durability. It has two monochrome LCDs and two separate pairs of buttons for adjusting temperature and time. There are separate buttons to turn on or off heating and ultrasonic functions as well. The other side of the device has a power connection, while the bottom side has skid-proof rubber feet to make the device stay firm in its place.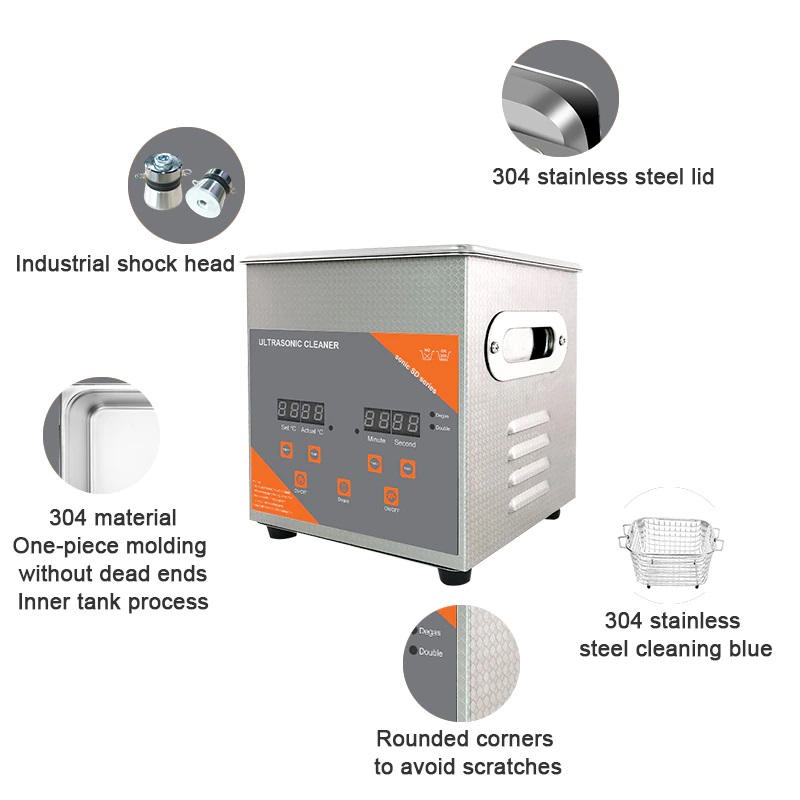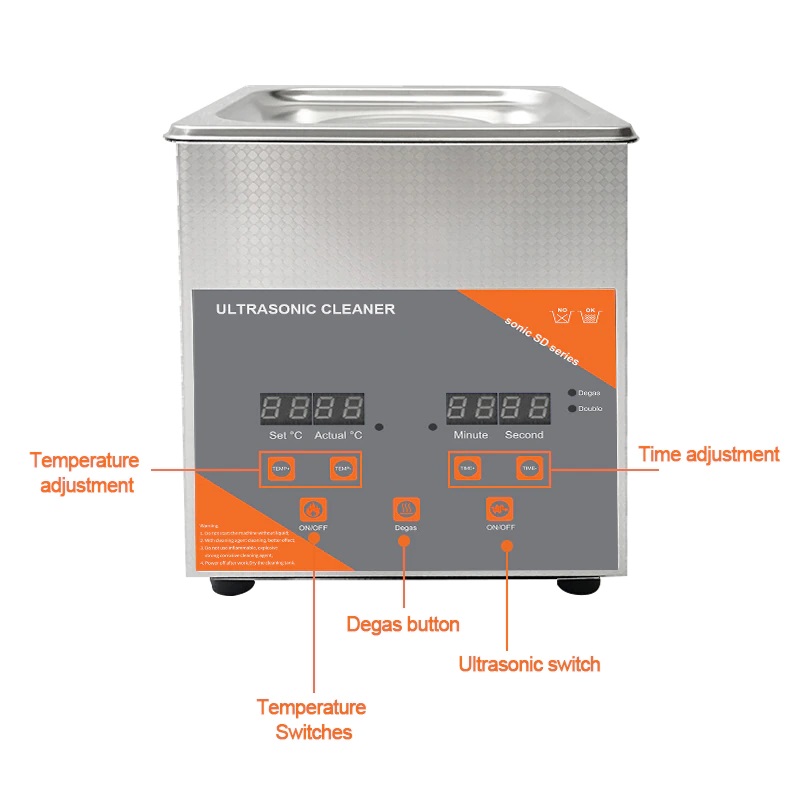 How to use this 
ultrasonic cleaner?
Using this device is extremely simple, as evident from the steps below:
Open the top lid

Place the cleaning basket in the tank.

Pour water or any appropriate cleaning solvent.

I

mmerse the items you want to clean

Connect the device to a power source and switch it on 

Use the 'Degas' button to quickly remove dissolved gases from the liquid before starting the cleaning process. This step is not always necessary, but it can improve cleaning performance when using water from a pressurized water supply.

Set desired time and/or temperature values (heater and ultrasonic functions can be used together or independently)

When the cleaning cycle is complete, remove the basket from the tank and collect your items.
Reasons to buy this ultrasonic cleaner:
Sturdy construction with high-quality materials

Inexpensive but effective

Large tank size

Suitable for cleaning many everyday items

Ease of use

Portable and lightweight
Product Specifications
Total Tank Capacity: 2 Litres

Available Capacity: 1.6 Litre

Product size: 175mm*160mm*210mm

Tank Size (Inside): 150mm*135mm*100mm

Product Material: 304 stainless steel

Number of Shocks: 1

Product Colour: Silver

Power: 60W

Frequency: 40KHz

Heating Power: 150W

Temperature Control: Yes

Timer Function: Yes

Degas Function: Yes
Package Contents
1 Ultrasonic Cleaner

1 Cleaning Basket

1 Steel cover

1 Power Cord

1 Instruction Manual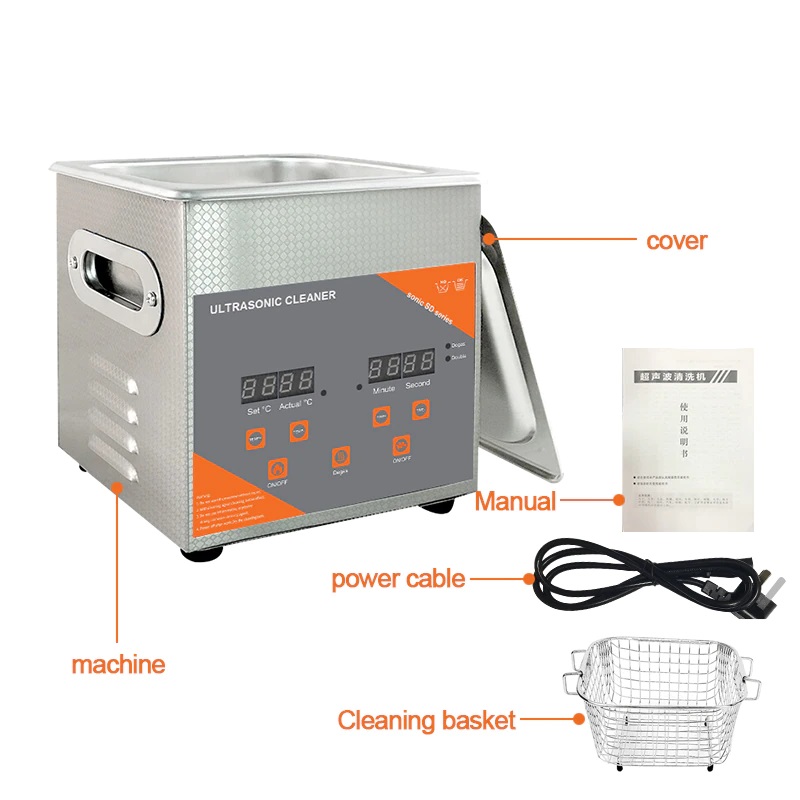 Applications
Ultrasonic cleaners are used in a variety of environments for cleaning numerous objects, such as:
Necklaces, bracelets, earrings, and other jewellery items

Glasses, lenses, watches, and related products

Household items like utensils, razors, brushes, etc.

Small auto, industrial, and other machine parts

Nuts, bolts, screws, cutters, pliers, etc.

Dental and surgical instruments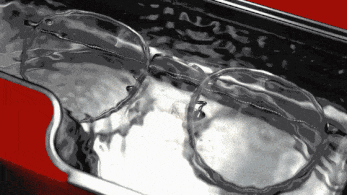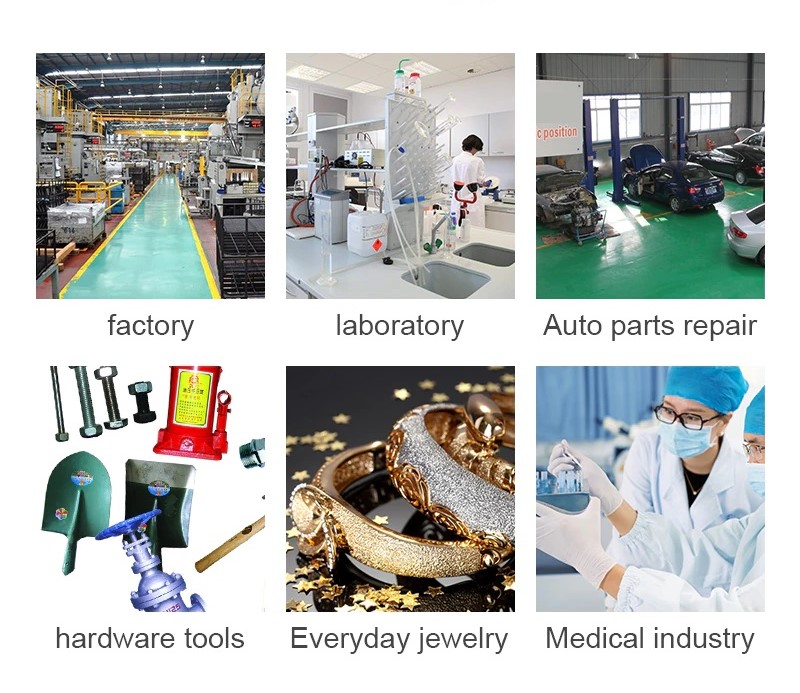 Frequently asked questions:
What is the best cleaning solvent for this ultrasonic cleaner?
We recommend using just tap water for cleaning in most cases. If the item requires a more thorough cleaning, you can add 5-10ml of detergent to the water. However, you get the best results when you use a solvent appropriate for the item and the type of dirt. So, the best solvent pick depends on your cleaning requirements.
Safety Precautions
Avoid using corrosive or flammable cleaning fluids

Pour water/cleaning fluids into the machine before turning it on

Turn off power before removing cleaned items from the tank

Avoid washing electronic items that are prone to liquid damage